Making some serious sockgress
I thought I'd post a couple pictures of my recent knitting instead of just nattering on. I've been a little bit, shall we say, behind on the
Six Sox Knitalong
, and lately I've been playing catch up.
Things started out well enough on the August/September sock, the Making Waves sock. I finished the first sock within a reasonable amount of time, but then September was my busiest month at the office (as it always is), and the second sock languished. Though I loved the result, the knitting itself was admittedly not all that riveting for some reason, so that contributed to the delay. However, I pulled them out again to take with me on a two-night ski trip to a yurt in Logan Canyon in February (or was it March? No need to discuss my early senility this soon in the blog...) Between that trip and multiple car trips to Altamont, Utah (which is where I'll be getting married in September - perhaps a story for another time), the navy blue Making Waves were finally finished.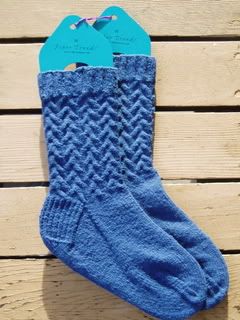 These socks were knit out of navy blue Elann Esprit Sock it to Me! yarn (which is cotton with a little bit of nylon, much like Cascade Fixation) on size 3 bamboo needles.
Next up is my Stashbuster Spiral sock progress. These are so great, since I am actually maintaining the spirit of stashbusting and using up all of my leftover sock yarn. Well. Okay. Maybe not ALL of it, but a good chunk. I think of them as the Son of Charlotte socks, since their primary yarn content is all the leftover KPPPM from my Charlotte's Web shawl. There are five different kinds of KPPPM, some leftover Fortissima Colori, and some Lorna's Laces. Anyway, I anticipate finishing them by the end of my upcoming business trip, which will be from tomorrow through April 29th. I'll be bringing the laptop and the camera along, so hopefully there will be some blogging from the road!