Where is Andrea knitting now?
By this time tomorrow, the answer to that question will be a blissful, most welcome "home."
Yes, I'm heading home. I usually don't mind being away from home, but for some reason, this trip has been most exhausting, and I'll be glad when it's over. Perhaps it was the long meetings, or perhaps it was the fact that our team had just a little bit too much togetherness (together all day for work, and then most of the evening for dinner most nights), leaving very little personal down time. Or maybe it was the fact that I've had to limp ever so slightly through it all on an injured knee. I tore my ACL and miniscus, and sprained my MCL and LCL in a skiing mishap on April 1st, and lucky me, I'll be having surgery in the next couple weeks! (Never heard of all this knee anatomy?
Click here
).) It's not painful most of the time, and I can get around quite well, even though I must wear a most annoying brace all the time. However, I am certainly not 100%, and that is irritating and hindering.
But where was I? Oh, yes. Going home. In order to facilitate getting myself and all my new yarn home, I found tonight that I was in need of a new bag of some sort. So I hit the TJ Maxx, and lo, I am going home with this: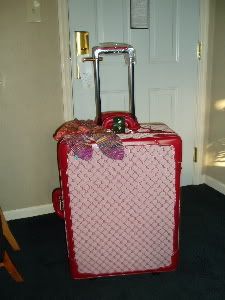 I am trying very hard right now to convince myself that this was not a ridiculous purchase. I am not particularly suceeding, but I'm not taking it back to the store either. Even the finished Son of Charlotte socks seem to enjoy the association with this suitcase. This is a Lauren Ralph Lauren suitcase with, as you can see, classic styling, red leather accents, the whole deal, purchased for about 40% off the original retail price. In all fairness, my suitcase of this size is broken and I was contemplating replacing it. I probably wouldn't have gone for this one, but, well...behold the interior:
So red! So irresistable! Just look what the purchase of new yarn has driven me to! What's the name of that effect? The one where you paint your kitchen, and suddenly you find you have to replace the countertops, which leads you to need a new dining room table, and so on forever? Ah well.
The astute among you will have immediately picked up on the fact that the socks are actually finished! The second Stashbuster Spiral sock came off the needles this afternoon. If you like the look of these socks and would like to try the pattern yourself, you can get it by joining the Six Sox Knitalong (click on the button on the side of my page for a link.) They are, however, not technically finished, as there are more ends to weave in than I like to consider. So I am, in fact, not considering them at all. Tomorrow on the plane, I intend to cast on a nice simple scarf on some 9-inch size 10 bamboo needles for some highly no-brainer knitting. If I'm able to stay awake, that is. I have to leave for the airport by about 4:45 AM. Whee!
Better get packing that new bag. Oh, and by the way, thanks for stopping by my blog, and thanks to everyone who has been commenting!