The Tell-Tale Compression of Pages
"[M]y readers...will see in the tell-tale compression of the pages before them, that we are all hastening together to perfect felicity." - Jane Austen,
Northanger Abbey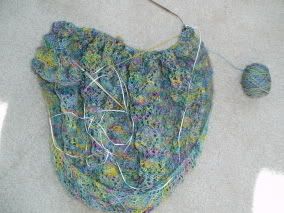 Tell-Tale Compression
Jane may have presaged an ending of perfect felicity in her tell-tale compression of pages, but a week ago, at about 3:00 PM on Christmas Eve, I realized that the tell-tale compression of KPPPM showed that the yarn and I were hastening together towards our unhappy doom.
Seven rows into what I had intended as my last ten-row full-pattern repeat, I thought to myself, "Self, this doesn't look so good. You know, the wise woman would have put in a life-line seven rows ago. The semi-wise woman might put one in now."
After carefully pulling a very long piece of dental floss through my very long row seven, the Voice of Reason kicked in, and admonished me, "There is NO WAY you are going to have enough yarn to complete this pattern repeat and the edging. NO WAY. Turn back now, daylight is burning!!" (Please, you don't need to point out to me that it wasn't a good sign to start hearing multiple voices at this point. Serious chocolate and coffee reserves were already required.)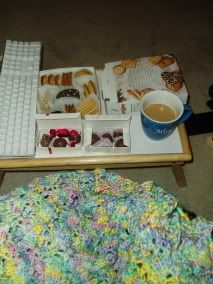 This calls for emergency back-up
And so, I tinked seven incredibly long rows of lace, people. It took me hours and hours. I don't want to say how many; it was highly embarrassing. I tinked all evening at my parents' house, sitting near my grandma, for whom the shawl was intended. She'd seen me knitting on it months before, too. "What are you knitting, Andrea?" "Oh, just some lace..." "What kind of lace?" "Oh, just a little shawl..."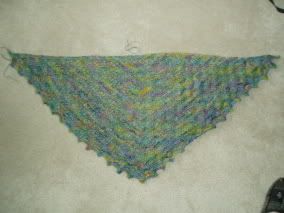 And so it was done. Well. Almost.
When everyone went home and went to bed, I came home and knit until around 3 AM. The knitting was complete, though I saved the binding off for the next morning - incidentally, binding off a shawl knit on size 7s using a size 11 needle worked marvelously. And so I bound the shawl off at about 10 AM on Christmas morning, and wrapped it up. So, sadly, I did not meet my goal and I had to give it to my grandma unblocked, and then take it back for blocking, which I will complete this weekend. But I think she liked the shawl, and hopefully she'll like it even more when it's really finished... I would have met my goal of being completely done, I think, were it not for my reckless disregard of the tell-tale compression of skein. So, let this be a lesson to you, my friends. LIFE LINES. I'm just sayin... At least when operating under such an ominous deadline. Ha ha -- a deadline calls for a life-line!! Now that's catchy (and cheesy).