The Consolations of Knitting
I have been thinking a lot over the past few days about how comforting knitting is, and on how many different levels it is comforting. The act of knitting just soothes the spirit, like a form of meditation or even therapy. It reassures, it distracts, it even lends a sense of control and accomplishment in a world in which those things sometimes seem hard to come by.
But of course, it isn't only the process of knitting that is comforting. Far from it -- the products of knitting can become some of the most comforting objects in our lives. So far in my knitting career, the two types of items that get the most frequent use, and which are the most comforting and beloved (by me and others) are socks and afghans. It seems that many knitters shy away from knitting afghans and throws, perhaps because they are so large. For me, afghans are the ultimate in comfort knitting, and several that I've knit for myself and for relatives receive almost daily use. As I've been largely stuck at home recovering from my knee surgery over the past couple weeks, I have been enjoying the comfort provided by some of my hand-knit items: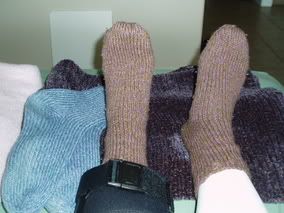 Socks and a throw to see me through
I currently have three pairs of Cozy Armchair Socks (from
Weekend Knitting
by Melanie Falick, which is one of my all-time favorite knitting books), and I wear one or the other of them on an almost-daily basis when my feet are cold around the house. Knit on size 6 and 7 DPNs out of worsted weight yarn, they make great comfort knitting too, when you just want something easy, mindless and quick to work on. They are also great beginner socks for those who want to delve into the sock world. I've made them out of a Tahki Tweed yarn, Cascade 220, and out of the Artful Yarns Jazz called for by the pattern. I have to say, the Jazz is the winner -- a lovely alpaca/wool blend. True, they are handwash, which is a drawback, but I think they are worth it.
The throw in that picture is made of good ol' Lion Brand Thick n Quick chenille, using a
throw pattern
from the Lion Brand website. True, the yarn isn't much fun to knit with, and it STILL sheds little fibers around the house, but this throw has been much used and much loved (not to mention the fact that it perfectly matches my sofa). Not only that, but the throw itself was definitely comfort knitting -- I dubbed it "The Break-Up Throw" when I was knitting it about three years ago, because working on that throw, while watching the Pride and Prejudice mini-series repeatedly, was one of the best things that helped me get over a relationship that ended very badly.
Hm. I wonder if I'm starting to see some sort of correlation here? Many of the items that have been most comforting to knit have also turned out to me the most comforting to use on a daily basis. I'll have to pay more attention in the future to see if the correlation holds up.
I've come to the conclusion that my posts are getting too long because they are too infrequent. I have more things to say and show today, but I think I'll hold it in reserve in favor of posting more frequently. So check back in the next couple days for more.
I'll leave you with a pic of my Rogue progress as of two days ago: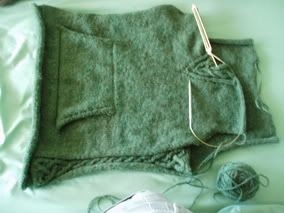 Rogue-ing it
Oh, and let me not forget, I made myself some dorky little buttons for KnitterPatter. They're over there on the sidebar, so please feel free to use one if you'd like to link to me on your blog. But do please save me bandwidth by copying the button to your own photo host rather than linking to my picture. Not that bandwidth is much of a consideration for me at the moment, considering how few readers I have, but it's just good blog etiquette to practice in general, or so I hear.