Distractions
In an attempt to distract you from the fact that I haven't been accomplishing very much in the way of knitting lately, and hence to prevent this from being the most boring knitting blog in the short history of knitting blogs, I present a whole whack of pictures (with a salute to the
Yarn Harlot
for the word "whack," which I enjoy immensely.)
First of all, there is actual knitting progress, in the form of my Naturwolle scarf, which is coming right along thanks to those plane rides: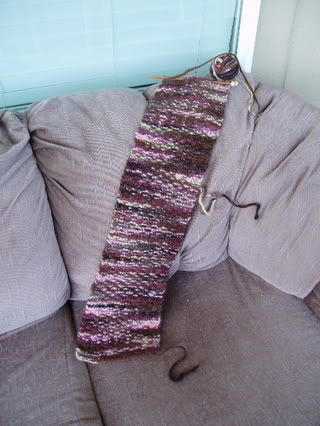 Incidentally, I think I was a bit confusing in yesterday's post. I'm not actually travelling at the moment. I was in Phoenix for about two days last week, but I'm back home now, and won't be going anywhere for a while -- this coming week I will work for the first three days of the week, and then I'm finally going to have my knee surgery on Thursday. I'm not very excited about that, but I guess it's best to get it over with so that I can begin the process of real recovery, as opposed to the "pre-habilitation" that I've been undergoing since my knee injury six weeks ago.
Oh, and incidentally, part 2: I went in my first IKEA in Phoenix, and I'm in love. There are no pictures, but why, oh why, do we not have an IKEA in Utah? I feel confident that they would do a huge amount of business.
But back to the knitting, here is a close-up shot of the scarf, just to give a better idea of the colors. There really is a stitch-pattern in there (a double-moss stitch, I believe it's called), which doesn't show up all that well, but which I think gives some interest to the scarf nonetheless).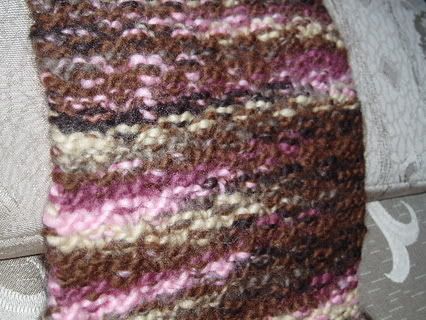 One of the reasons I haven't managed to do much knitting lately is that I have moved recently, and I've been attempting to organize all my stuff into a smaller amount of space than the space from which it came. Here is the solution I came up with for my yarn stash: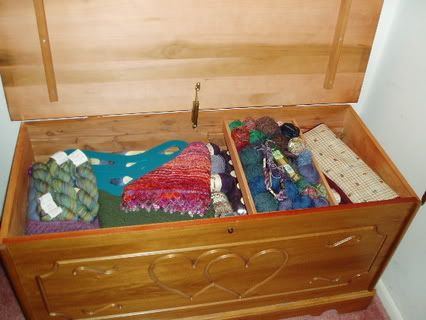 My only question is this - why in the world didn't I think of this before? I've owned this cedar chest for years, thanks to my Grandma who gave it to me as a college graduation gift (you didn't think I'd buy something with a couple of interlocking hearts on the front of it for myself, did you?) So why is it that I never thought of storing my yarn in there? I'd even had little sachets of cedar chips in with my stash in the plastic totes where it used to live. I can only conclude that I'm an idiot. But at any rate, I had the brilliant idea to transfer it into the chest, and I'm very pleased that it's there now. On the plus side, my entire yarn stash fits in one chest (well, except for that basket of yarn that's in the living room and the yarn for my current projects and...) On the downside, my yarn stash fills an entire cedar chest, and I disappointingly haven't had time to knit it all. But, oh, the possibilities!
A few comments about what's visible in there. Charlotte's Web is hanging out on top, because it seemed like a good place to store her. On the far right is a funky retro straight needle case that I picked up on the cheap at Knit Craft in Ogden. Gotta love that place. Little leftovers reside in the tray, and sock blockers are kickin' it on top. You can also see the sleeves to my as-yet unfinished Rogue, and also my Fuzzy Pull-off Lace Cowl from Melanie Falick's
Weekend Knitting
, which still needs some blocking and crocheted edging one of these days. (You can see additional pictures of the Rogue and cowl in my Knitting Gallery, linked on the sidebar.)
And on the far left is this: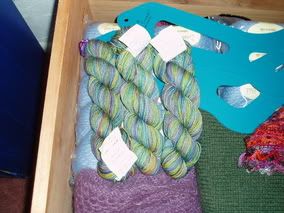 Three lovely, relatively new skeins of Koigu's KPPPM that I bought recently when I was having a very bad day (which turned into a better day, as it's the day I sold my house). Not sure what I'll make with them, though I was considering getting a lace fix, as knitting lace from Koigu is sheer joy. Any recommendations?
Also, here's a gratuitous close-up of the Koigu: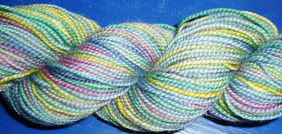 Oooh, ahhh.
Finally, here are a couple of the reasons I didn't get any knitting done yesterday. I headed down to Salt Lake with my mom to run various errands, but I did come home with this: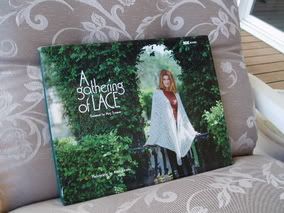 I won't be joining the Gathering of Lace knitalong, since I'm not very good at knitalongs lately, but it's a book I've been wanting for a while, and I had a leftover Christmas gift certificate to the Wool Cabin (which seems to have no web page, but check
this page
for a listing of some of the yarn shops in Utah, though it does not encompass all of them). The copy is quite a bit more shop-worn than I liked, but it's the only thing in the store that I really wanted at that moment, so home it came.
And in completely non-knitting-related purchases, behold the beauty of my new, 14-inch cast-iron wok (oh, hooray!), and my wedding invitations and RSVP cards.

There. Distracting enough? :) One of these days I'll have some substantial knitting time again. Perhaps that will be one of the few upsides of recovering from surgery...