Dirty Little Secrets
I feel like I need to confess a few dirty little knitting secrets. I decided to put together a listing of works in progress for my sidebar, and that's when I realized that I have about three projects that really ought to have been finished long ago. Considering the very small amount of finishing left to do on each of them, it's pretty ridiculous that I haven't gotten them out of the way long ago.
Exhibit #1: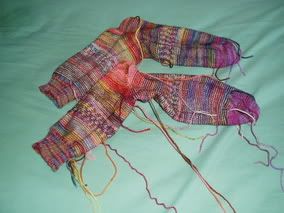 The seedy underbelly of the Son of Charlotte socks
The knitting itself on these Stashbuster Spiral socks was completed quite some time ago. But weaving in the tails. Oy. Still hanging over my head.
Exhibit #2: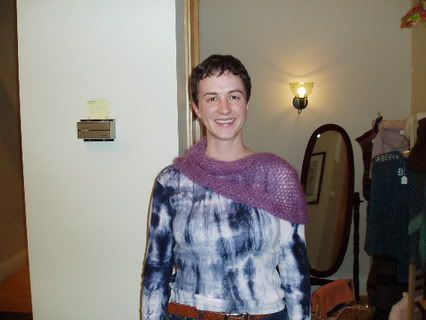 Cowl Interrupted
I can't even really remember when I finished the knitting on my lace cowl. It's been a while. Now all that remains to do is weave in two ends, block it, and crochet the edging on. So of course I haven't touched it in ages. This is my "swatch" for the matching camisole, as well, so as soon as it's blocked, I can determine how I'd like to proceed with the camisole. If I can even remember what size needles I used at that point. Heh.
And, finally, the most embarrassing UFO of all,
Exhibit #3:
Long-term charity afghan project
About three years ago, I had the brilliant idea that my Stitch n Bitch group should make some charity afghans to donate to Primary Children's Hospital in Salt Lake City. It would be so easy! Everyone could make 10" x 10" squares, and we would sew them up, and voila!
We had tons of participation at first. The squares poured in, and we had enough to make two afghans. Some were, um, gaudier than others, and some were, well, not 10" x 10" by any stretch of the imagination, so we ended up with one crazy-ghan and one more sedate. Unfortunately, she who initiates the charity project gets stuck with the finishing work, and between that and waiting for a few straggler squares (because I wanted everyone to have a chance to contribute), these afghans have taken an embarrassingly long time to complete. After teaching myself to crochet in order to fill in the gaps, much sewing of squares, weaving in a nauseating number of yarn tails, and crocheting a border,
the wacky-ghan was completed about a year ago
(scroll down on that link to see it). But somehow, though all the remaining squares for the second afghan came in, and though I managed to sew it all together and start to weave in the tails, I have not yet had the fortitude to finally finish the damn thing. A friend from work took it for a while, volunteering to crochet on a border and weave in all the tails. She had the afghan for quite some time, and though she did crochet the border, she didn't manage to do the tails, and then started having some health problems, so I collected the afghan a month or two ago and now it's hanging over my head once again.
Perhaps now that I have confessed, I will be able to overcome my laziness and finally finish these projects up! Then again, maybe all that tail-weaving should just wait until I've stopped taking all narcotic pain killers for my knee, because, really, weaving that many tails should only be undertaken with a glass (or perhaps a whole bottle) of wine.
No, wait, I've figured it out. I have new resolve, at least for the afghan. I haven't managed to get together with my wonderful Stitch n Bitch gals for quite some time now, but I hope that life will be settling down somewhat and that I will be able to start meeting with them a little bit more regularly soon. So I decree that every time I get together to Stitch n Bitch from now until it is finished, I will ONLY work on the Primary Children's Hospital afghan.
Well, at least it's a start at clearing my conscience...