I should have knee surgery more often
Okay, well, maybe not. But I must say, if people keep bringing me yarn like this, I won't complain!!
Yes, that's right, I got STILL MORE new yarn, and once again, it was not at all my fault.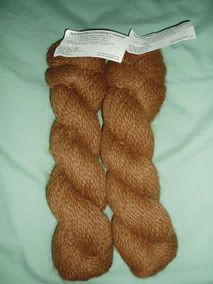 100% alpaca, baby!
One of Paul's best friends, Matt, was in town over the past few days, because he is a tax consultant for many of the people attending
a national alpaca conference that was held in Salt Lake City
. Networking, and all that.
Too bad I didn't really know about the conference in advance, because it would have been muy tempting to hobble my way around the convention center, giggling at how funny and cute alpacas are and groping yarn. But, lucky me, Paul conspired a bit with Matt, and when Matt came to visit us and mountain bike with Paul all weekend, I got the luscious stuff that you see above. Yippee!! Two 4 oz, 210 yard skeins of 100% huacaya alpaca in a natural, undyed color, from the
New Era Fiber Processing Company in Dawsonville, Georgia
. Such incredibly soft, gorgeous stuff. Probably not actually worth having knee surgery for, but a definite consolation whilst recovering.
In other news, today was my first day back at work. I went in for not quite a full day, as I had a physical therapy appointment in the morning. However, the great team of people that I work with bought me this ice cream cake, which we shared after lunch: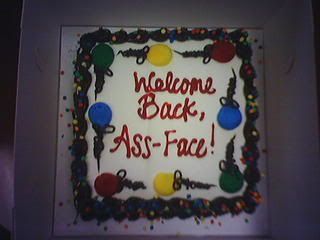 Feel the Love
Don't worry, I wasn't offended. In fact, this cake gave me a good laugh, which I sorely needed today. It's based on a couple of inside jokes, one of which is a reference to the movie
Waiting for Guffman
,which I highly recommend if you haven't seen it. Though I honestly think the cake is pretty funny without any knowledge of the inside jokes whatsoever. In good news, I am weightbearing on my operative leg as of today, though still using at least one crutch to get around. In bad news, due to a "misunderstanding" with my doctor, I
should
have been putting weight on my leg for like the last week and a half. I would swear on a stack of Bibles that he told me to keep weight off it for three to four weeks, but today he insisted that, no, I need to put weight on it, I should have been doing so already, it helps the ACL to heal, but he doesn't think I've done myself any harm by not putting weight on it. This was insanely frustrating to me, as I could have been spending the last week and a half (when I was NOT at work) getting stronger, getting around much more easily, and generally having a better life. Oh well. At least there was the timely application of cake. And tonight there will be knitting.