Meant for Each Other
Who could possibly resist the lure...nay, the veritible gravitational pull of a big sale at their LYS? Particularly when that LYS is the Needlepoint Joint, where they seldom have sales? Not I. The last NPJ sale was over three years ago, and aptly named the Once in a Blue Moon Sale. It did not disappoint, and neither did this current sale, the Price Slasher Sale. For those of you who are local, the sale runs through Saturday, and they have some great stuff, so you should check it out. For those of us who are among the weekly "regulars," we received a special sneak preview of the sale last night, and I saw many a happy knitter making many a massive yarn haul.
I wouldn't say my haul was massive, but it was respectable: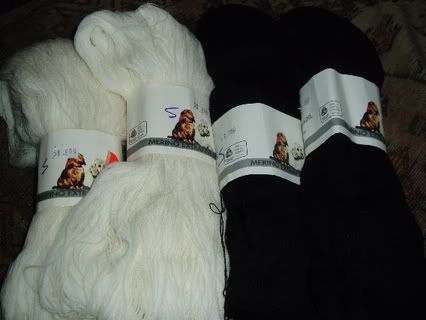 Laceweight
Here are four skeins of Madil Merino Extrafine 2/48, two in cream and two in black. Each skein was only $4, and each has 1200 m of yarn! That's two large shawls or four small shawls for $16. The mind reels.
Why are there dogs on the packaging for a yarn made from pure virgin wool? Beats me. Anybody out there know?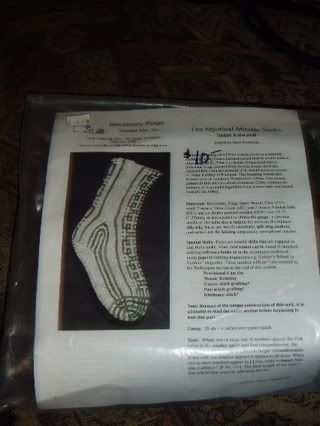 Mosaic Sock Kit
Here's a real score: a Blackberry Ridge Mystical Mosaic Socks "Saint Edward" kit for $10. This is a great find because I very nearly bought this kit at the regular price of $20 a number of times. This also has the distinction of being the only mosaic knitting I've seen so far about which I thought, "I really want to make that."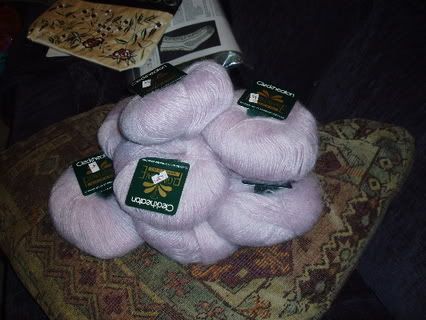 Pile o' Mohair
This photo isn't very true to the color, but this is a pile of ten skeins of pale pinky-lavendar Cleckheaton Flowerdale Mohair 8 Ply. easily enough for a sweater. The damage: $30. Can you believe it? Ten balls of mohair for $30? You couldn't even buy a commercially made mohair sweater for $30, at least not a half-way decent one. Woo Hoo!
Jaeger Handknits Knitting Magazine Eight
I just couldn't believe it when I picked up this magazine full of classic, stylish sweaters I actually liked, only to see this on it: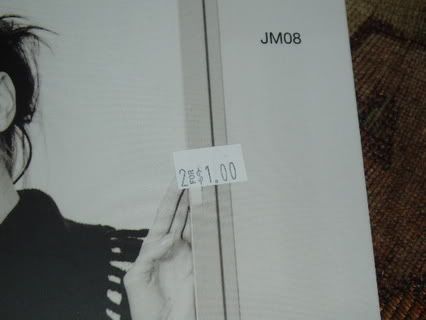 Do my eyes deceive me??
Yes, this was in the two for $1 bin. I could scarcely believe it, and, as it turns out, it was mismarked, but they gave it to me for the price shown anyway. I only learned that it was mismarked after my sale was complete, when I commented, "I can't believe you guys were selling that Jaeger magazine for so cheap!," and the owner's daughter replied, "Wellll...it was actually mismarked, but we gave it to you for that anyway, because we like you!" It's not like they lose money on me, anyway, considering the alarming number of frequent buyer cards I've filled up in the past year...
As a matter of fact, karma evened things out right away when I bought this, which was definitely not on sale, not by any stretch of the imagination: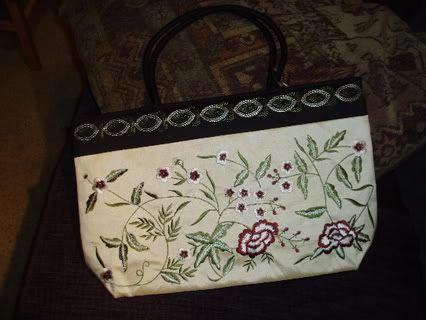 Price Slasher Sale Splurging
When I saw this beautiful Della Q bag from across the room, I basically thought to myself, "Oh,
there's
where I left my bag." I don't know about soulmates and love at first sight, but I do know a soulbag when I see it, and this bag and I were clearly meant to be together. I mean:
Who could argue with this?