Picture-rama
No posting for a while means I have a TON of pictures to share now. Since I discussed most of them in the last post, I'll just proceed without a lot of further explanation.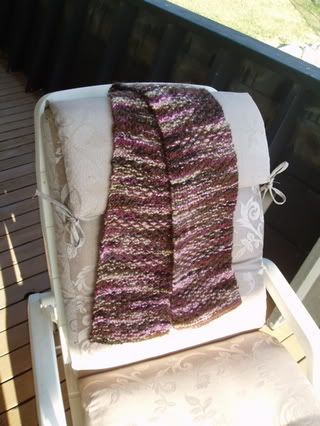 Black Forest Naturwolle Scarf in Rosenholz Coulorway is Complete
I finished this double-moss stitch scarf somewhere in Idaho (driving in the car between Sun Valley, Idaho and Ennis, Montana on the 4th of July, in fact.) It was no cheapy, since I like a wide scarf, and it took three skeins of this pricey yarn. But I think I'll enjoy wearing it, and it's certainly very warm.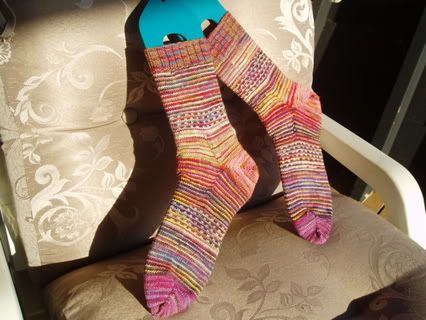 "Son of Charlotte" Stashbuster Spirals Finally Finished
So, I FINALLY finished these socks from the
Six Sox Knitalong
. It took me long enough. The knitting has been done since April, I just couldn't bear to weave in the million yarn tails, though it wasn't really that bad, of course, once I actually sat down and did it. These include leftover yarn from some Fortissima Colori Jacquard socks, some Lorna's Laces socks (the Fluted Bannister pattern for the same knitalong, actually), and then tons of leftovers of KPPPM from my Charlotte's Web shawl (hence their name).
Rogue Nearly Done!
Next up we have the current status of
Rogue
. The sleeves and body and hood are all complete. I grafted the hood with a reasonable amount of success, though I think it could look better. Hopefully blocking will smooth it out a little bit, because right now I don't think it looks completely seamless in that cable, at least not in the reverse stockinette part. But then, I was just sort of winging it, and it turned out well enough. Not being a knitting perfectionist is pretty freeing. I figure I learn from the things that I don't do perfectly, and I'll be better at it the next time around.
Hood Cables
Here's a closer view of the hood cables. Due to my squatty row gauge, I had to lengthen both the body and the hood. For the hood, I just picked an 8 row pattern repeat and added 16 rows, which was a smidge more than I technically would have needed to compensate. I kind of winged it with adjusting the increases and decreases as I went, and it worked out just fine. The body was easy to lengthen -- I added three repeats of the simple cable in the middle. I was a little worried about the body, because I did not lengthen it at all from the armhole shaping to the neck, though technically I should have. I considered it, but the math seemed tricky, and so I tried it out as written. (Sure, I
majored
in math, but laziness is always my first preference!) Luckily, it fits just fine that way. It's nice that knitting really is so forgiving.
Lace Project Revealed
Yeah, here's that mysterious lace project to which I've been alluding. It's the Lovers Braid Pattern Lace-Edged Pillowcase from
Weekend Knitting
(as I've said before, one of my favorite knitting books ever.) I previously made a Leaf Pattern Lace-Edged Pillowcase from the same book (which you can see
here
), and I had a ton of yarn left over, so I wanted to make another. I kind of liked the idea of having a set that doesn't actually match. The yarn I'm using is different than what the pattern calls for - it's Katia's
Mississippi 3
in white. (BTW, anybody know anything about that yarndex site where I found a link for the Katia? I'd never seen it before, but it seems interesting.) The pattern calls for a 100% mercerized cotton, and this yarn is a cotton/acrylic blend, but it seemed to work out okay on the other pillowcase, and though the ball band says to hand wash, I recently sent the pillowcase through the washing machine (but not the dryer) for the first time, and it seemed to hold up just fine. The finishing on these is very tedious, but the result is nice.
Cold Nights Camping?
That's okay! You can just wear your scarf while you are knitting it! Just watch out for that velcro on the coat -- since velcro is the enemy of knitting, no doubt about it.
And, finally, this is for
Kim
: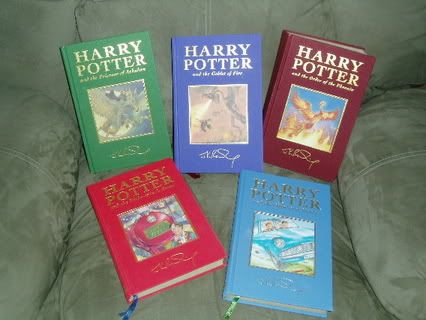 Harry Potter Books, UK Special Collector's Edition
My friend who started me reading HP did so by sending me the special edition of the first book. I enjoyed it immensely, and of course I wanted a matching set, which led to me ordering these from Amazon.co.uk. Unfortunately, the collector's editions come out several months after the initial release, so I have the latest book on order, but it won't be published until October. So don't anybody tell me anything that happens!! I may just have to borrow somebody's copy before then.
Whew. And thus ends the picture fest. Happy weekend!