On the Road Again
After a few months' respite thanks to both my knee surgery and something of a summer lull, it's time for another round of business trips. Last Thursday found me on a rather brutal one-day trip to Phoenix, AZ -- brutal, meaning that we went for the day only and didn't stay the night, so I had to wake up at 4:30 AM to be to the airport for my 7:15 flight, and I didn't walk in the door of my house until around 11:45 PM that night. Well, and brutal also meaning that it was something like 110 degrees Fahrenheit in Phoenix that day, and frankly, that's just not right. Walking outside felt the way it feels to stick your arm in the oven to pull out some food. Oh, sure, it's a "dry heat," but it's also a heat in which you probably could literally fry an egg on the sidewalk.
I made it through my day with lots of caffeine and lots of knitting. Completely ignoring all four items on my WIP list, I decided that I needed a project that was both easy and small, so I cast on for a new sock. I started the sock the night before in anticipation of the trip and knit about three rows. Then, as soon as I settled in to wait for my plane at the airport, the fun began: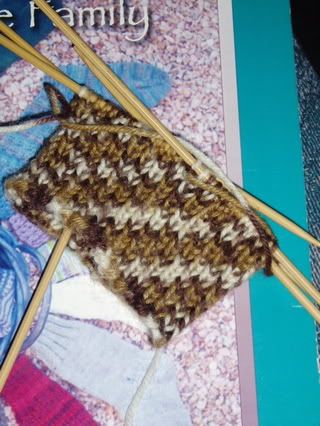 Sock-in-progress on the flight from Salt Lake to Phoenix
The yarn is
Cervinia Calzeterria
in color #901 (named "Milan") purchased from
Smiley's Yarn Sale
for super-cheap. (Looks like right now they're selling it for $2.50 a ball. I calculated that I might need three balls of it to make one pair of socks, but I suspect you could easily get a pair from two skeins.) I'm using a pattern from
Classic Beginnings Socks for the Family
by Michele Wyman, which is a great basic sock book, and I'm working these on size 2 Clover bamboo needles.
It turned out to be a great day for knitting. I knit while waiting for and throughout the first flight, then in the rental car on the way to our meetings. I was able to sneak in some knitting time on breaks, and also after the meetings during a rather long wait for our flight home and throughout the second flight, though I was nearly dropping from exhaustion by that point. Hence the wisdom of an easy knitting project to carry along.
As a reward for enduring the blistering heat (which no sock made of wool should have to endure), the sock and I snagged the rental car at lunch and headed for IKEA.
Socks love IKEA too
The Phoenix IKEA is just a few blocks away from where our meetings were held, and I actually needed to hustle over there to pick up part two of a baby shower gift that I'd previously purchased from them. I'd purchased the
frog part
of a cute frog ottoman on our last business trip to Phoenix, but stupidly didn't notice that there was an accompanying air element sold separately. Lucky me, they were in stock, and I was able to pick it up just two days before the baby shower for which it was intended! (Guess occasionally a little bit of good luck comes along to make up for the bad luck of, say, major skiing accidents and such...) Naturally, I bought a few other items (hey, I have more than one baby shower coming up!). The sock and I also enjoyed a rather tasty lunch in the IKEA cafeteria.
With all this quality knitting time, I made great progress. Here's a view of the sock, enjoying the company of my lightly salted peanuts and Bloody Mary mix with lemon on the plane ride home: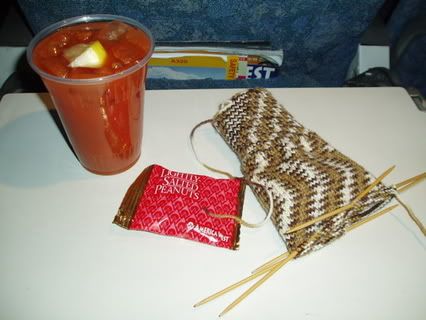 Sock kicking back
Nah, nothing stronger than the mix in that drink. I would've had to sleep in my car otherwise! As you can see, the colors combined and behaved in a rather strange way, one which reminds me pretty distinctly of
snake skin
. Here's something even stranger: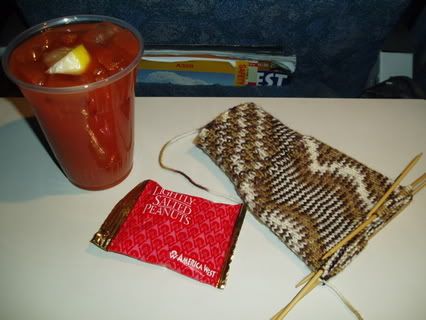 Anomaly
One section of the yarn has much longer stretches of the dark brown and cream than the rest of the yarn, so it doesn't pattern in the same way. I know that this would drive a large percentage of the perfectionistic knitblog world to distraction, but me, I just let the yarn do what it wants and be the way it wants to be. And I'm just pleased that I'm getting the gauge I set out to achieve, 8 stitches per inch, since I've often had more like 9 or 10 spi on socks in the past (which, remarkably, fit anyway...go figure).
As a reward for its suffering, I took the sock with me for a day of pampering on the following day (because I had very wisely scheduled the day off work). The sock and I enjoyed a pedicure, fake spray-on tan, haircut, and eyebrow wax, and believe me, we felt like new people/footwear afterwards. So much so that I bought some new clothes (none of which match the sock...don't tell it). And as an even greater reward, the sock came along to the baby shower on Saturday and enjoyed the lovely afternoon tea at the
Grand America Hotel in Salt Lake City
: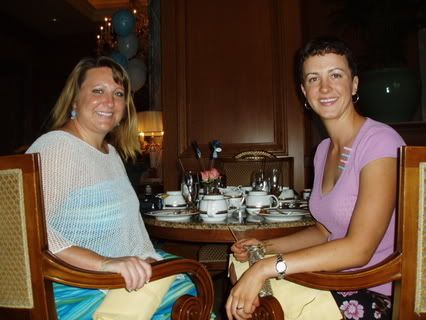 Knitting in Fine Style with Brooke
Yes, I know how to show a sock a good time. Even when the irony of knitting wool socks in 110 degree Fahrenheit heat renders the activity almost ludicrous.
I leave you with this, one of the strangest signs I've ever seen. This was at the Phoenix airport, and I saw several of them.
Give me your tired, your poor, your huddled masses yearning to breathe free. And then make them wait in Terminal B for 3 hours.
My question is this: refuge from WHAT? Are there other areas in the airport in which people in wheelchairs are persecuted, and therefore they must seek refuge? I don't get it.