FBS Woman
Anybody remember the horrid jingle from those old
FDS
ads? I tell you, you don't know a good time until you spend a good 30 or 45 minutes crawling around on your office floor, wielding well over 100 T-pins, singing to yourself, "What a woman....FBS Woman....FBS woman...so clean and confident!" Marketing! It is insidious! Do you have any idea how much of my brain must be occupied by old advertising jingles from childhood? To which I can still sing all the words? It freaks me out.
Flower Basket Shawl a'blocking
Okay, I finally blocked the Easter Basket Shawl. Never mind that I said I was going to block it back on *mumblemumble*...ahem. I really was going to block it sooner, but I couldn't find my T-pins, so now I am the owner of many, many T-pins, whenever the old ones turn up to join the new that I purchased this week.
You want detail? I'm getting my detail on right here, pally: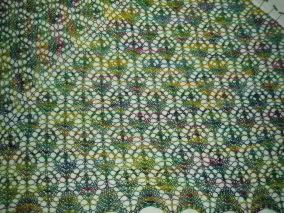 Come Closer...
Yup. They are twee little flower baskets. See?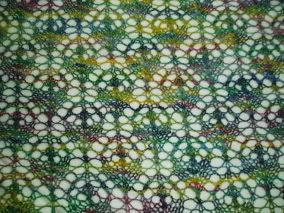 No, I Said Closer...