Needlepoint Joint Christmas Party
Here are a few belated photos of the Needlepoint Joint Thursday Knitters' Christmas party, which we held during our regular Thursday night knit-together before Christmas. The couple hours that we get together on Thursdays are always some of the best hours of my week (everyone else in my life has come to accept them as sacred, not-to-be-supplanted hours), so of course you can imagine that a Christmas party with this bunch would be a good one. And indeed it was.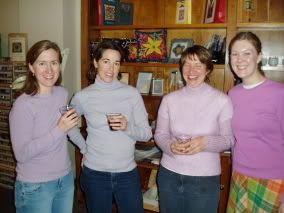 At last, purple is the new black!Karyn, Hilary, Angela, & Amber
This is a group in which you know if you say the word "potluck," everyone is going to bring something fabulous and delicious and your only regret will be that you don't have an extra stomach to enjoy it all even more, rather than those dreaded potlucks where you know you may somehow end up with three bags of dinner rolls, four bags of chips, and seven two-liter bottles of Diet Cherry Coke. So, naturally, there was fabulous food and drink.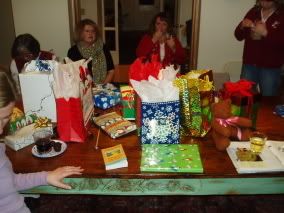 Yes, there were presents
The group also had a Christmas party last year, but this year we improved upon it by taking Krista's most excellent suggestion of instituting a white elephant gift exchange. However, in keeping with the usual style and grace of our bunch, the premise of the gift exchange was not that of your standard white elephant exchange - rather, everyone was to bring a gift up to a certain dollar value, and it was to be something that you would actually like to receive yourself. So the ensuing gift stealing wasn't to rid oneself of unwanted nosehair clippers and Pez dispensers, but rather to try to get some of the good stuff! I can honestly say that all of the gifts were "the good stuff," and I would have been happy to receive any one of them! Which I think is the mark of a really great group of people, because I don't know if I've ever seen the equivalent at any other Christmas party. I ended up stealing in order to get a bottle of wine, a box of locally hand-dipped chocolates, and a Lush bath bomb (all of which Kristi had brought) -- fantastic! The wine and chocolates are long gone, and the bath bomb will be perfect in the big garden tub in my new apartment.
For a slideshow of all of the pictures I took that evening,
click here
. Well, all but one of the pictures, since my webpage limits the number I can upload per album page to a mysterious 48. I left out one that was very similar to one of the others, but in which y'all were making some very funny faces. Warning to those of you on dial-up: this WILL take a long time to load - it's 48 pictures after all. Go get yourself a cup of coffee or something and then come back.
As you can see, things got a little wild
What a great evening, done just right. I can say without hesitation that it was one of the best Christmas parties I've ever had the pleasure of attending. I feel truly blessed to have such amazing knitters and friends in my life.