Our beautiful roof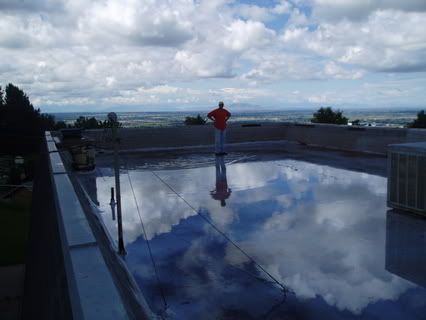 Dangerous beauty
This is one of the most oddly beautiful pictures I've seen in a long time, and ironically it is a picture of something that is very bad indeed.
This is our roof, with 3 to 5 inches of water standing on it. The water got high enough that it exceeded the level that is sealed against water, and therefore water was leaking into the living room around the fireplace. Not good. Tree debris had clogged some drains. Yes, as many of the other Utah knitbloggers have reported, we've had a LOT of rain around here lately. Luckily, the drains are now clear and impending doom has been averted. But I was so struck by this picture when Paul put it up on our computer that I decided to share it. At first glance, I thought it was a watercolor painting or something. And, oddly enough, I've been trying to figure out a way that I could take a photograph that would show just how gorgeous and enormous the sky seems around here. I think this one does a pretty good job.
I have lots of knitting news and pictures, which I will share very soon, but I wanted to show this photo in the meantime.